The Galileo Hackathons by GNSS.asia are here!
30 / 09 / 2021
Are you a determined innovator or a passionate problem solver that wants to develop sustainable solutions that support our future? Then the Galileo Hackathons are the right opportunity for you. If you are living in an ASEAN member state keep an eye on our webpage as the registration opens on 4 October.
The Galileo Hackathons will take place from 12–14 November 2021. Hackers are challenged to leverage the European Global Satellite Navigation System Galileo to develop solutions for Southeast Asia that evolve around emergency applications, environmental challenges, maritime applications and Tourism & Cultural Heritage.

As a Hacker, you will have to choose your Galileo Hackathon. You can join either the Open ASEAN Galileo Hackathon for all of Southeast Asia or the Galileo Hackathon in the Philippines by the Philippine Space Agency (PhilSA) or the Galileo Hackathon in Thailand by the Thai Space Agency (GISTDA). The Hackathons are virtual, so the only things you need to hack away is a laptop and a stable internet connection.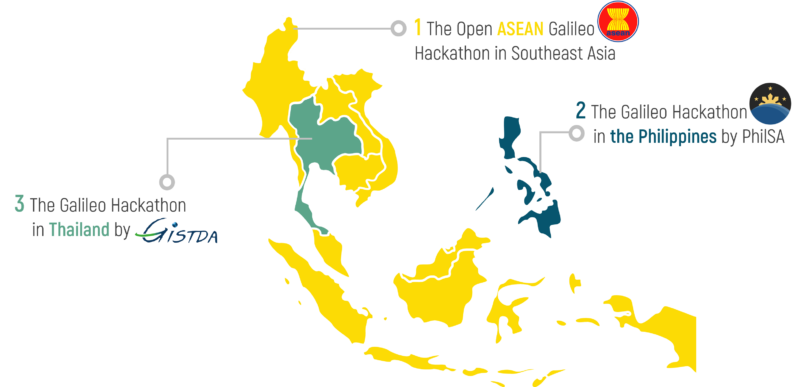 The Galileo Hackathons aim to foster the development of innovative applications based on EU Space technologies. Participants apply their skills and knowledge to tackle challenges faced by industry and society in the respective countries. The three winners of each hackathon will receive a cash prize of 2k, 1k, and 500 EUR for places 1 to 3 respectively.
The registrations will open on 4 October! Stay tuned and find more info here: https://gnss.asia/hackathon/
The Galileo Hackathons are organised by GNSS.asia with the support of the European Union Agency for the Space Programme (EUSPA) and the Association of Southeast Asian Nations (ASEAN).