The Galileo Hackathons by GNSS.asia
ASEAN series 12 – 14 November 2021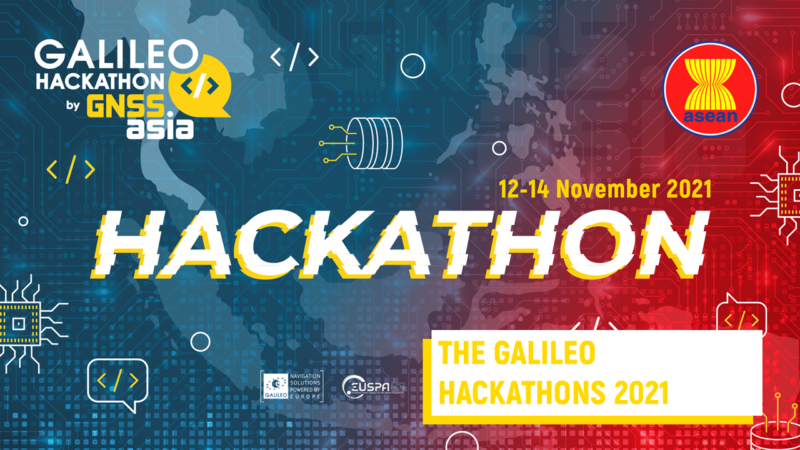 After the last Galileo Hackathon in India in March 2019, GNSS.asia organised a new series of Galileo Hackathons – this time all virtual and with a new partner – the Association of Southeast Asian Nations (ASEAN).
On 12-14 November 2021, 3 Galileo Hackathons opened their virtual doors to innovators across Southeast Asia.
The Open ASEAN Galileo Hackathon in Southeast Asia
The Galileo Hackathon in the Philippines by PhilSA
The Galileo Hackathon ​in Thailand by GISTDA
Check below the key results of the hackathons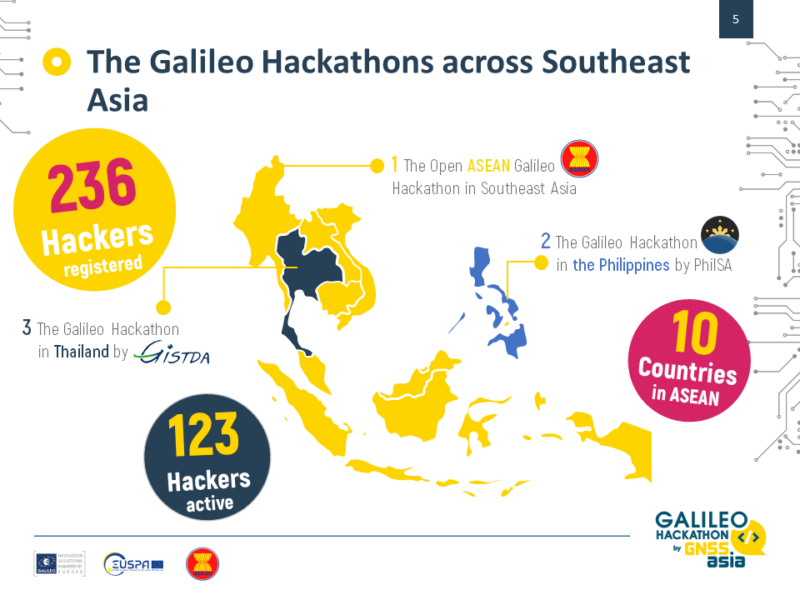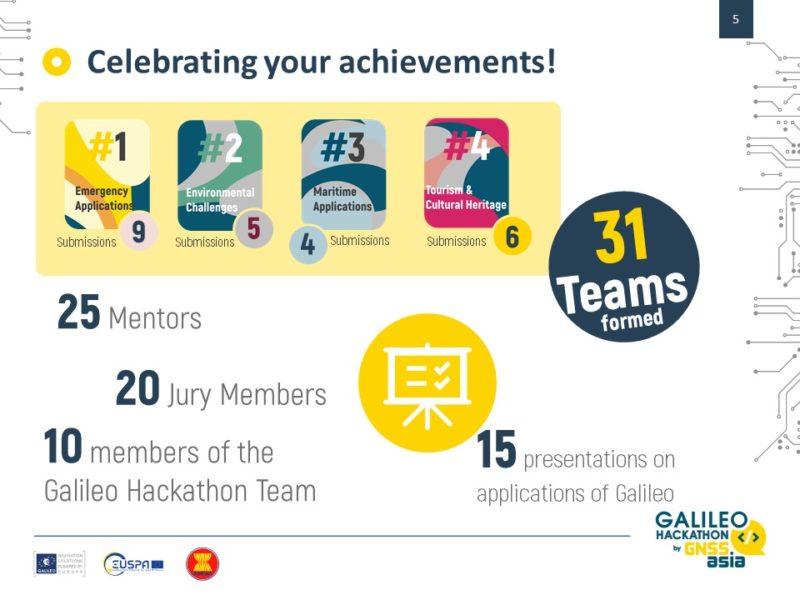 The participants had as the main objective to develop hands-on solutions that directly benefit everyday people in their country. Their solutions revolved around the 4 challenges:
Challenge #1 – Emergency Applications;
Challenge #2 – Environmental Challenges;
Challenge #3 – Maritime Applications;
Challenge #4 – Tourism & Cultural Heritage
During the hackathon competition, the participating teams worked on solutions such as:
First responders & rescue (Challenge #1)
Prevention & preparedness​ (Challenge #1)
Firefighting (Challenge #1)
Reforestation (Challenge #2)
Waste management & recycling​ (Challenge #2)

Smart fishing (Challenge #3)

Marine life protection

(Challenge #3)

Port management

(Challenge #3)

Protecting Cultural Heritage​ (Challenge #4)
Safe, Smart & Responsible Tourism​ (Challenge #4)
Who are the winners of the Galileo Hackathons?
First, we want to congratulate the hundreds of participants that joined us during the weekend from around ASEAN. It was amazing to see so many passionate people that used GNSS technology to come up with innovative solutions to pressing challenges that are faced in the ASEAN region. On Sunday (14 Nov) we awarded the top 3 teams for each hackathon location, continue reading to find out who they are!
Open ASEAN Galileo Hackathon
LiLA is an online mobile application platform that bridges people and the environment. It will be a one-stop hub for tree planting event organizers and tree-planting volunteers.
Location Integrated Geological hazard Tracking and Action System (LIGTAS) is a location-based disaster reporting and response system utilizing Mobile GNSS and web GIS technologies.
Bagan Info aims to provide tourists with comprehensive information and itineraries within Bagan, a UNESCO site while contributing to the integrity and sustainability of the cultural site.
Galileo Hackathon in Thailand
Our application solves the tourist capacity problem by showing the level of population density in tourist attractions at that time and suggesting nearby attractions with less population density.
The smart system that automatically alerts the fire departments and provides them with the best map to travel to the fire accident using the combination of AI and GNSS technology.
Galiwander will recommend places with cultures where people also like, as well as places that suit the lifestyles of users. By using a recommendation system (Collaborative Filtering) with GNSS.
Galileo hackathon in the Philippines
A GNSS Leveraging Device with Emergency Power System for Survivor Geopositioning during Maritime and Natural Disaster.
A low-cost smart fish farming app using buoy-mounted sensors.
A system that use GNSS data to give a real assessment and warning in the event of sudden flooding.
If you want to have a glimpse of the Galileo Hackathons you can check out the Open and Award Ceremony at which top ASEAN and EU officials shared their thoughts and support for such innovation competitions.
Who is GNSS.asia?
Via an assistance network of local representatives across Asia, supplemented with expert knowledge of local and wider technology trends, GNSS.asia has been driving collaboration on GNSS technology across continents for over a decade. The project has a significant outreach both in Asia-Pacific and in Europe. GNSS.asia is funded within Horizon 2020, the European Union Framework Programme for research and innovation.
If you have questions, don't hesitate to contact the GNSS.asia Team at hello@gnss.asia