Applications for MyGalileoDrone are now open!
22 / 07 / 2020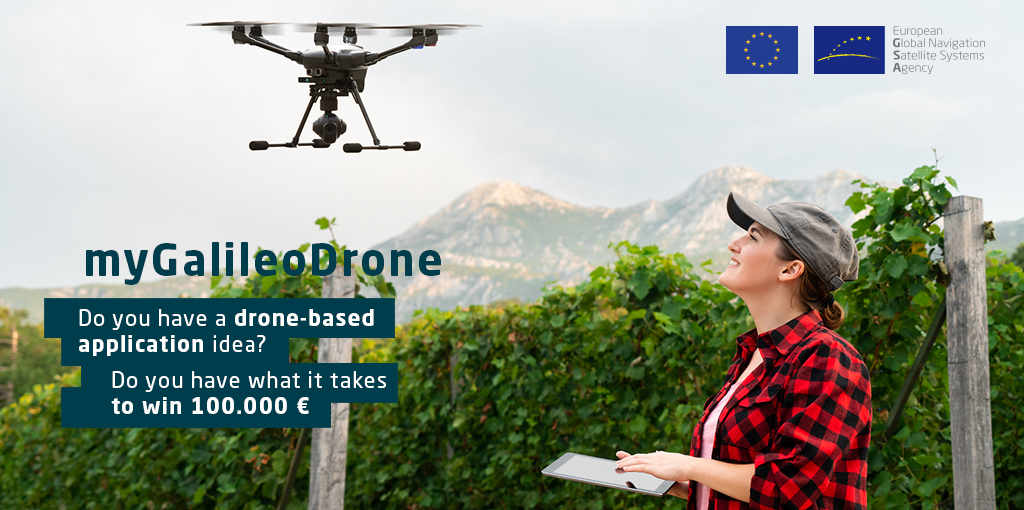 Opportunities
On 17 July, the European GNSS Agency (GSA) announced the launch of the MyGalileoDrone competition. All those who would like to challenge themselves in developing a drone-based and Galileo/EGNOS-powered application or service can apply with their ideas until 31 August. The solution has to be focused on one of the EU's high-priority areas like smart mobility, sustainable agriculture, 5G, IoT, or another highly promising and beneficial technology.
Participants from all the Member States will compete for significant monetary prizes, where the winner will be awarded EUR 100,000 while the 2nd, 3rd, and 4th places will receive EUR 60,000, EUR 40,000, and EUR 30,000 respectively. The results of the first round will be announced on 15 September with the next deadline being 30 November for the development of the demo version of the suggested application or service. The finalists will have a chance to pitch their ideas and demo their technologies to a panel of experienced investors.
The European unmanned aircraft vehicle (UAV)-related market is rapidly growing and is expected to reach EUR 250 million by 2025 and even more astonishing EUR 10 billion by 2035. This entails not only a rapid expansion in the drone numbers but also the emergence of new novel drone-related applications. As such, the coordination of a larger UAV fleet performing ever more complicated tasks will require increased reliance on navigation and tracking technologies.
This is where Galileo and EGNOS can demonstrate their capabilities and provide considerable value-added benefits. "GNSS is a key enabling technology in this segment, ensuring robust navigation and reliability for a wide range of applications. The MyGalileoDrone competition aims to bring oxygen to European SMEs and entrepreneurs driving innovation. It will create jobs and growth in this promising market," said Pascal Claudel, Acting Executive Director at the GSA.
Visit GSA's website to learn more about the competition and apply for this exciting challenge!