Galileo and Smart RTK Hackathon Flashback
25 / 09 / 2019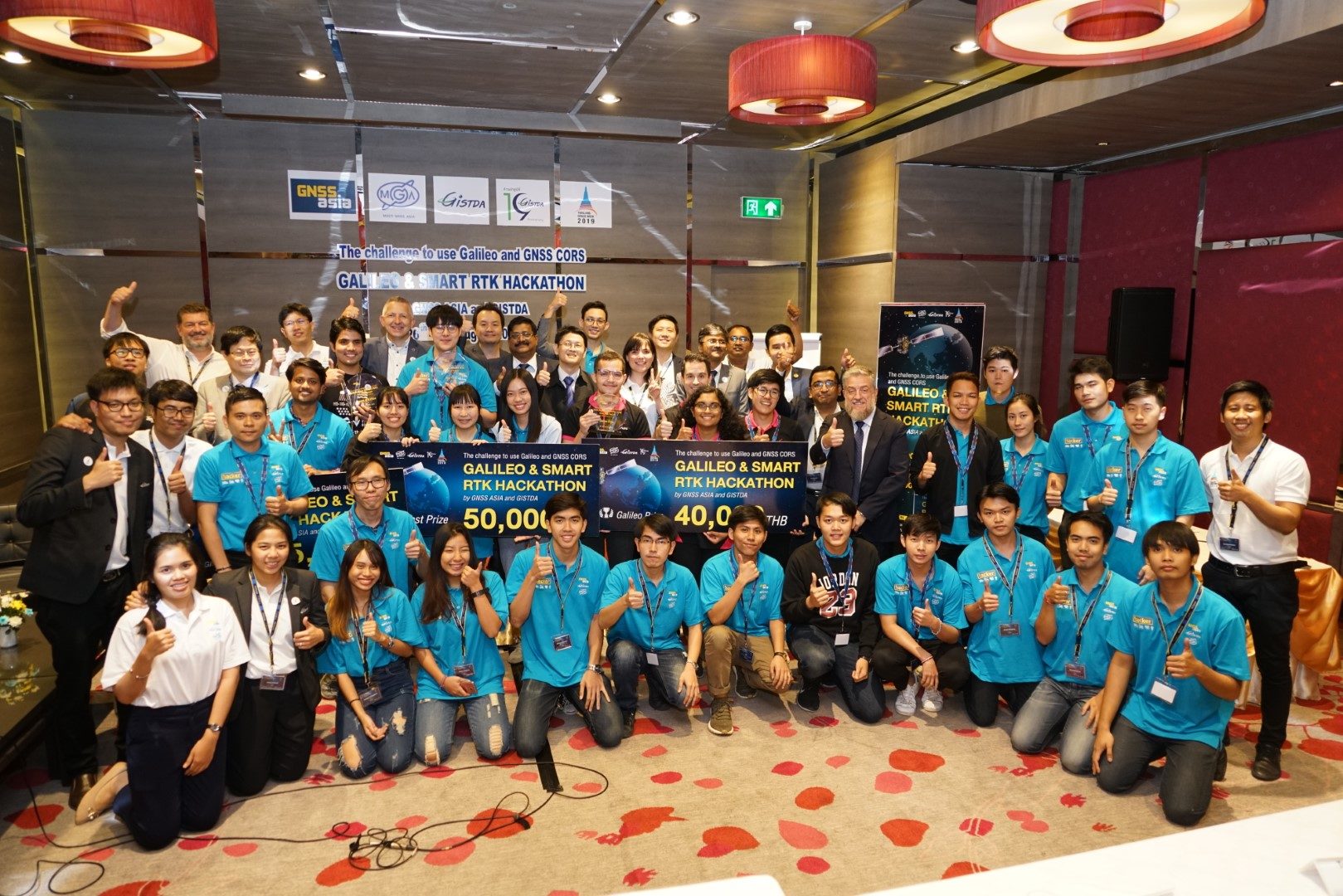 Event news
Over two days in August, to kick off Thai Space Week, GNSS.asia and GISTDA ran a Galileo and Smart RTK Hackathon – challenging participants to think outside the box. With one hackathon already completed this year, it was a good opportunity to introduce Galileo to a new region and to a new group of enthusiastic innovators.
We had 50 undergraduates, entrepreneurs, business owners and PhD candidates in attendance; their backgrounds varied from engineering, computer science, and GIS, to marketing, geodesy and business management. The diversity was fantastic to with a 45 to 65 female to male ratio. There were 10 teams in total, with 9 mentors helping teams iron out kinks, understand how to use the technology and turn their ideas into incredible projects.
In order to give the teams a well-rounded understanding of the technological concepts behind Galileo and Smart RTK, the first day opened with interactive training sessions by Dr Anindya Bose, from the University of Bardwan, India, and Ms Darunee Promchot from GISTDA. They both gave participants the fundamentals behind GNSS, Thailand's GPPS network and some hints about how to incorporate them together. Varadarajan Krish, Managing Director, Induct AS, India, took our hackers through the hard and soft skills needed to take ideas from concept to reality.
European Commission Adviser at DG GROW, Augusto Gonzalez, arrived just before the hackers started hacking and gave an energetic and stirring talk about GNSS and its impacts.
It was time to begin! As the mentors began to mingle with the teams, it was great to see we had a selected a group of multi-dimensional mentors who could offer their vast ranging expertise  – we had hard technical experts, product design experts, market and innovation adviser as well as project management and marketing gurus. They all contributed to pushing our teams, helping them goal-set, pivot if they needed to and really encouraged them to think about the bigger picture of their solutions.
Teams were challenged to develop a solution to provide one of the following:
A user-friendly, fast and cost-efficient A-to-Z transport solution for Bangkok;
Smart agriculture, focusing on high precision or automatization;
A smart city solution for citizens who are disadvantaged and/or with health issues;
Other smart solutions for Bangkok, Thailand or globally (travel, sustainability, logistics, food distribution, new services…) using Galileo or G-PPS;
A smart mobile application platform for GNSS positioning in real-time, retrieved correction data from G-PPS to improve the accuracy of smartphone positioning called "Smart RTK"
When it came to pitching time, the hackers did a superb job keeping to time and using the 10 slide template made especially for the occasion. We saw a wide range of applications: GNSS enabled ticketing to reduce traffic accidents; drone delivery for food, medical devices and urgent packages; outdoor/indoor 3D mapping for more effective firefighting; automatic ripeness assessment of fruit combining unpiloted aerial vehicles (UAVs) and GNSS; farming automation to mitigate rural depopulation to sustain farming into the future generations; driverless tractors with low cost GNSS receivers; and, identification of plant diseases using UAVs.
The judges were impressed with the professionalism of the pitches. Deliberations to award the prizes were passionate and almost heated, but a consensus was reached:
And… the winners were:
Smart RTK Prize —  Team FarmFellow.
Solution: Digital platform for agricultural farmers for farm mapping, crop selection and farm monitoring
Galielo Prize – Team Fling RTK.
Solution: Fling is using drones to deliver urgently-needed goods to city residents using multi-constellation GNSS and RTK to prevent jamming and position and land its drones safely and accurately.
Best Prize: Team – Second Eyes
Solution: EmergMap – Reducing costs due to fire damage for complex buildings, using 3D mapping, sensors and G-PPS technology to extinguish the fire efficiently and safely.
While not all teams could be awarded a prize, we want to acknowledge the efforts that all teams put in. They all seized the opportunity to learn from experts and peers, they challenged themselves and became familiar with a state-of-the-art satellite navigation system.
We would like to take this opportunity to once again congratulate all teams involved. The event would not have been the success it was without the energy that they brought, the ideas that they had and the dedication to pitching such well researched and brilliantly delivered solutions using Galileo and the Thai GPPS network.
And a massive thank you to the wonderful team at GISTDA and our extended GNSS.asia team, so great to have everyone in the same room, working together, championing GNSS to users and innovators in every corner of the globe.