Korea's space industry prepares for a leap forward
11 / 03 / 2021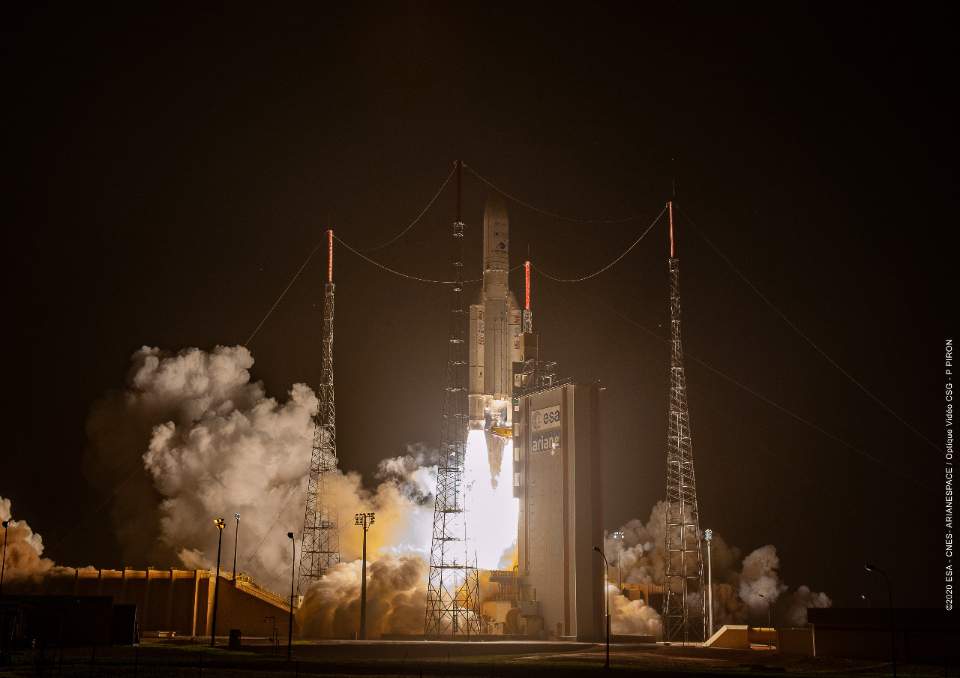 South Korea's GEMS instrument on the Korea Aerospace Research Institute GEO-KOMPSAT-2B satellite launched 18 Feb. Source: KARI

Market Analysis
The Korean Ministry of Science and ICT conducted The Space Industry Status Survey 2020 (in Korean) surveying 449 of the leading space actors in Korea, read on for the results as well as for an overview of South Korea's recent developments.
Findings of the Space Industry Status Survey
South Korea is a latecomer in the global space scene, but the country's space sector has considerably grown in the past decade. According to the survey, 40% of actors were established after 2005, with 70% of the actors starting space-related business or research after 2005. The valuation of space-related activities has also skyrocketed from KRW 937.5 billion (€699 million) in 2010 to KRW 3.26 trillion (€2.43 billion) in 2019.
The survey also investigated the composition of the industry as seen in the graph below, although, it should be noted that the Satellite Applications and Services account for 80.3% of sales whilst only representing 40% of the companies surveyed.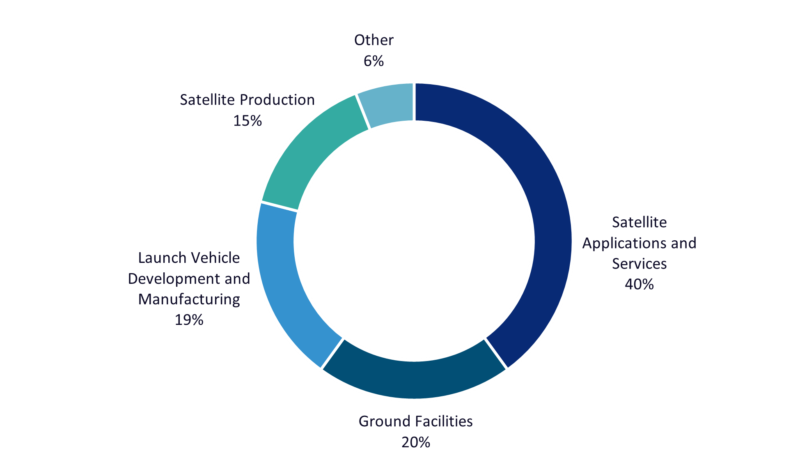 South Korea's Recent Satellite Launches
The expanding space industry reflects the country's growing space ambitions and previously unimagined capabilities. In recent years, South Korea has been showcasing its aspirations for the development of proprietary technologies to narrow the gap with the leading players in the space market. The following major national upstream projects are the most notable examples:
In February 2020, South Korea sent into orbit Chollian-2B, South Korea's indigenous meteorological/environmental monitoring satellite. It is the first geo-satellite equipped with a Geostationary Environmental Monitoring Spectrometer (GEMS) sensor onboard.
In July 2020, the country's first military satellite, ANASIS-II, was launched into a geostationary orbit onboard Space X'sFalcon 9 Based on Airbus'sEurostar E3000 satellite design, the ANASIS-II has enabled the first independent satellite communication for the military while making South Korea the 10th country to possess an exclusive military satellite.
In March 2021, Korea's first mid-sized next-generation satellite, or Compact Advanced Satellite (CAS500) will be launched. This locally-built 500kg-satellite will be primarily used for precision ground observation. The CAS500 series has two distinct purposes: to boost the domestic satellite industry and meet public demand. With its design as a standard platform, total of five CAS500-class satellites are in line for launch by 2025. For this, the Korea Aerospace Research Institute (KARI) – the leading public developer –  will cooperate with private companies on technology transfer and launch activities.
Meanwhile, the government has confirmed the development of Chollian-3, a geostationary public multi-purpose satellite for disaster and safety response along with signal correction and communication purposes. Like other projects, the Chollian-3 project will proceed to localise key components and payloads. The launch of the satellite is scheduled for 2027
The table below showcases Korea's satellite development projects, with the data being provided from KARI, NH I&S Research Center, and Business Korea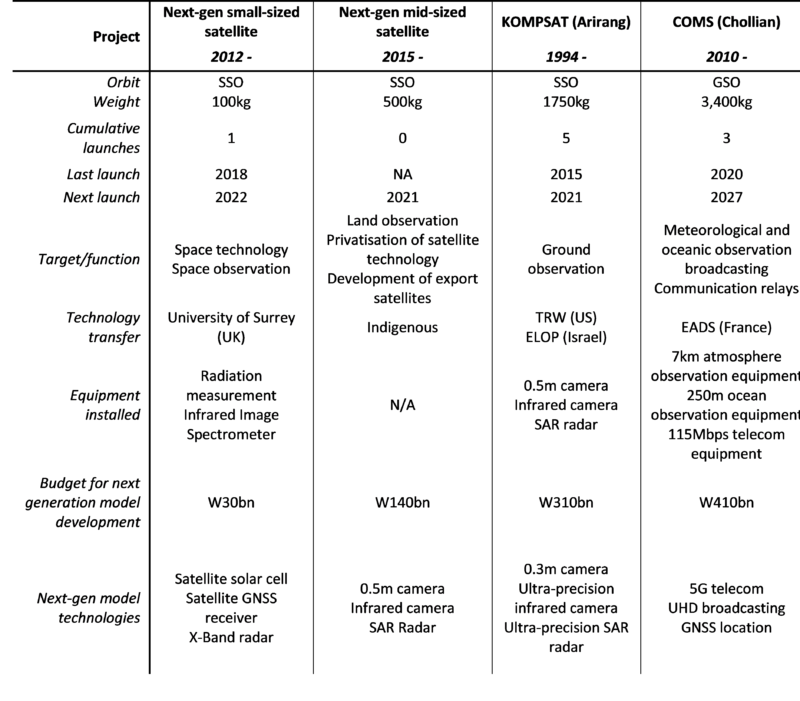 Innovation in South Korea beyond Satellite Manufacturing
The list of notable projects continues, however. Beyond satellite manufacturing, South Korea sets its eyes on launch vehicles, space exploration, and downstream innovation, including:
Satellite Navigation Infrastructure
It has been well known that South Korea is developing a satellite-based augmentation system (SBAS) with Thales-Alenia Space as a prime contractor. The Korea Augmentation Satellite System (KASS) is expected to be operational in 2022-2023 when it launches the open services. The Korean Positioning System (KPS), a regional navigation satellite system is about to undergo a feasibility test, and if approved, will begin to develop the system of 8 satellites by 2034.
Nuri Rocket
The Nuri rocket, also known as the Korea Space Launch Vehicle (KSLV-II), is Korea's first domestic launch vehicle. It has been a long-cherished project with a total investment of nearly KRW 2 trillion (€ 1.5 billion) since its initiation in 2010.  Whilst the main thrust for the country's first launch vehicle, Naro, was Russian-built, the Nuri project has been focusing on localising the first-stage rocket, equipped with four 75-tonne cluster engines.  The project will also upgrade or build a new launchpad, supporting facilities, and software for its planned kick off in October this year.
Lunar Probe
In the space exploration sector, KARI has been working on a lunar orbiter project – Korea Pathfinder Lunar Orbiter (KPLO) in partnership with NASA since 2016. After multiple delays and cost overruns due to weight problem, the project plans to launch an orbiter in 2022 and a lunar lander in 2030.
Solid-Fuel Propellants
A recent political move may further accelerate the development of launch systems as South Korea and the United States agreed to revise the joint missile guidelines in July 2020. The revision lifted restrictions on South Korea's use of solid-fuel propellants for rockets, unlocking its development potential for space vehicles and long-range missiles.
NewSpace and the increase in commercialisation
Another trend to note is an emerging "New Space" concept of private initiatives. The most prominent companies include: Hanwha Systems focused on small satellites and antenna; Korea Aerospace Industries (KAI) specialised in launch systems and mid-sized satellites; Hanwha Aerospace. Among promising SMEs are InnoSpace, a small launch systems and engine developer, and Satrec Initiative, the only domestic manufacturer capable of developing and exporting electro-optical satellite systems. In January 2021, indicating more active expansion in space businesses, Hanwha Aerospace acquired a 30% share of Satrec Initiative. As such, although the government is still the key player, private companies have gradually risen to show their presence.
What to make of South Korea's recent surge in space development?
On balance, its domestic base is still small and behind major global players. KARI's annual budget is around KRW 600billion (€450 million) compared to €5.4 billion for ESA or $21.7 billion (or €18 billion) for NASA. However, multiple promising signs indicate considerable upcoming changes. Some of the infrastructure projects are already in the final phase of development: KASS, CAS500, Nuri rocket to name just a few. South Korea is already well established in the ICT and robotics sectors. It is not unreasonable to expect synergy and growth spike in the years to come. The satellite downstream market is likely to expand propelled by high-accuracy signals combined with ICT networks. Indigenous expertise in launch vehicles and solid-fuel propellants will make satellite launch less costly and more efficient. Growing commercial interest in space activity may push further innovation. Indeed, South Korea's space industry is worth paying attention to.
Do you want to know more about the Korean space industry, or to be connected to key industry stakeholders such as Hanwha Systems and InnoSpace? If so, register your organisation for industry support today.
For any quick questions, contact the team at GNSS.asia at hello@gnss.asia. and stay up-to-date on the latest and greatest in GNSS by subscribing to our newsletter now.