The power of European engineering: how G-ReD monitors critical infrastructure and natural hazards
09 / 04 / 2021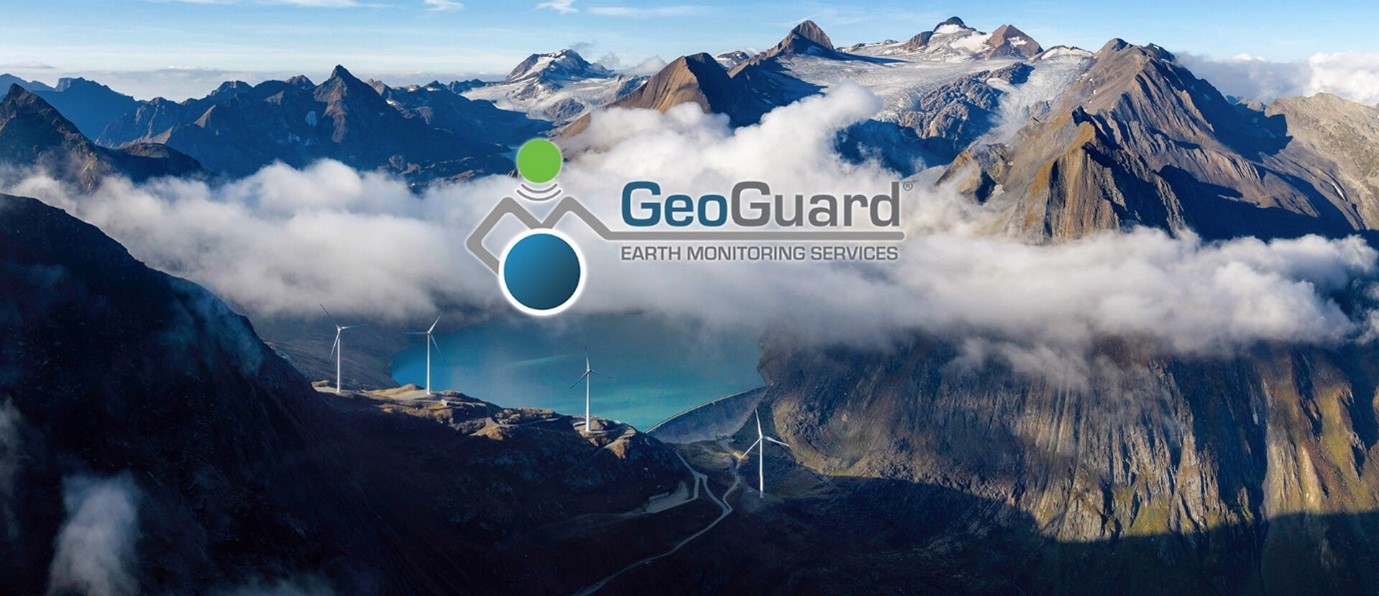 Start Ups
To showcase what is happening at the forefront of the positioning and navigation market, GNSS.asia has interviewed one of the key industry players – Geomatics Research & Development (G-ReD). The firm has shared exclusive insights about its latest technical developments, business experiences, and plans for the future.
GReD offers solutions ranging from GNSS displacement and atmospheric monitoring to gravity field modelling for geophysical exploration. With its product GeoGuard®, a multi-constellation service taking full advantage of Galileo by increasing its positioning performances in terms of accuracy, adaptability, and reliability, GReD offers an end-to-end service to its customers allowing them to reduce costs without compromising the accuracy of the monitoring activity of critical infrastructure and natural hazards.
Please, give us a brief introduction to your company. What is GReD's competitive advantage?
Geomatics Research & Development SRL is an SME spin-off of the Department of Civil and Environmental Engineering of Politecnico di Milano University (Italy), which studies, designs, and implements innovative and highly customised solutions based on geodesy and geomatics techniques. The staff consists of professionals holding a PhD degree by Politecnico di Milano, providing the company with the knowledge and methods necessary to tackle complex problems and solve them by means of innovative value-added ideas. Therefore, GReD is a link between state-of-the-art research and real, scalable market applications. GReD offers solutions ranging from GNSS displacement and atmospheric monitoring to gravity field modelling for geophysical exploration. Thanks to more than 20 years of experience in GNSS and gravimetric data processing, GReD develops both prototypal and operational software, like for example goGPS, a GNSS data processing engine. Furthermore, GReD offers on the market together with their partner algoWatt SpA the GNSS monitoring service GeoGuard®. From 2012, GReD expanded its customers base to include some of the Italian key players in the infrastructure and energy sectors, leveraging its expertise on GNSS applications and geophysical data analysis.
Can you give a quick introduction to one of your products? What makes this product stand out?
GeoGuard® is an innovative GNSS end-to-end service for the continuous monitoring of critical infrastructure and natural hazards designed based on the collaboration between GReD and algoWatt SpA. The sensing infrastructure is based on cost-effective GNSS antennas and receivers embedded in a remote terminal unit called GMU. GeoGuard® provides 3D displacement measurements of points, i.e. GNSS antennas, on the infrastructure (e.g. a dam, a bridge, a penstock etc.), or on the area subjected to natural hazards (e.g. a landslide), with accuracies of few millimeters in near-real-time (sub-daily solution of 1 or 2 hours), or in the order of one millimeter for daily solutions (in a situation of clear sky visibility from the GNSS antenna). The system architecture consists of one or more GMU that collect GNSS data and, if available, other sensor data, transmitting them to the GeoGuard® cloud. Thanks to proprietary algorithms, positions can be estimated and shared with the users by a web interface, periodic reports, and a REST API.

GeoGuard® system architecture at a glance
The competitive advantage of GeoGuard® with respect to other solutions based on standard geodetic hardware is that clients can reduce costs without compromising the accuracy of the monitoring activity. Moreover, it is intended to be an end-to-end service where the clients are supported by experienced staff in every phase of the project, from the preliminary on-site inspection to the delivery and in some cases interpretation of results. Finally, it is a highly customizable solution that can work in challenging scenarios characterized by harsh environmental conditions or sub-optimal sky visibility.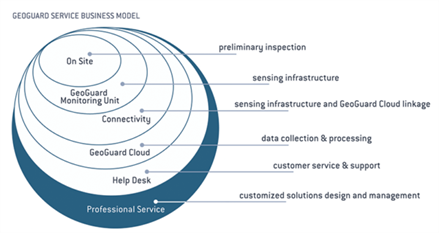 Activities included in the GeoGuard® end-to-end service
GeoGuard® is a multi-constellation service that is enabled to take full advantage of the Galileo satellite constellation, by increasing its positioning performances in terms of accuracy, adaptability, and reliability.
Galileo has unique selling points such as the High Accuracy Service, Galileo Authentication, and the Return Link – do you leverage these features or have plans to leverage them in the future?
GeoGuard® service relies on some of the unique selling points characterising the Galileo constellation. Galileo allows for using dual-frequency observations with low-cost receivers already on all satellites, instead of GPS where it is possible only for those with the L2C signal. Since the sensing infrastructure of GeoGuard® is made of mass-market receivers, this Galileo feature is extremely useful for positioning purposes. In addition, Galileo satellite tracks cover the whole sky in a much lower timespan compared to GPS, and this is an advantage for the GNSS processing operations performed by GReD.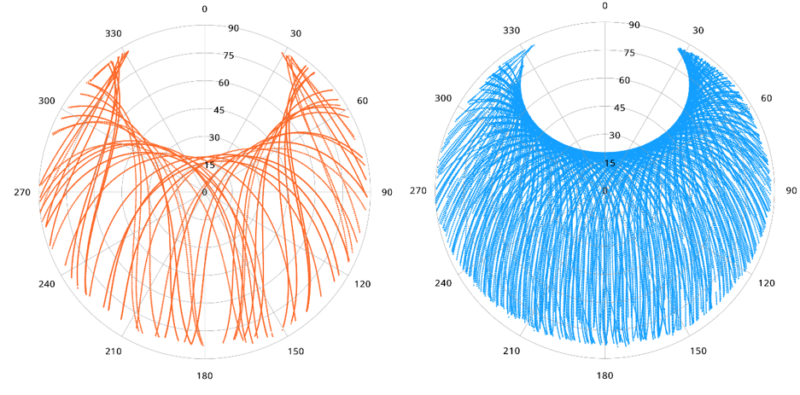 Comparison between a GPS (orange) and Galileo (blue) skyplot for a station property of GReD over 10 days. Data processing and visualization has been performed by GReD with the goGPS software.
Another plus of Galileo's satellites is the richer frequency plan with respect to GPS, that results in a more reliable and faster ambiguity resolution when dealing with very precise positioning applications.
We have seen that you are involved in Horizon2020 projects, can you expand on the results achieved?
Since 2012, GReD has been involved and is still part of several national and international research projects funded by Horizon 2020 programme and the European Space Agency. As we cannot describe them all here, let's talk about TWIGA, GIMS and STEAM projects:
Transforming Water, Weather, And Climate Information Through In Situ Observations For Geo-Services In Africa (TWIGA) is an ongoing H2020-funded project whose aim is to enhance satellite-based measurements with innovative in-situ sensors. GReD had the chance to deploy six GeoGuard® GMUs in Uganda, and eight more stations are about to be deployed in Kenya. They are used to sense the amount of water vapour in the atmosphere: these measurements are useful to improve the forecast performances of intense rain events. The numerical results, their interpretation, and the know-how needed to manage the deployed GeoGuard® GMUs are shared with local authorities, African stakeholders and all the partners involved in this challenging experience.
Geodetic Integrated Monitoring System (GIMS) is an H2020 project with the objective to build and commercialize an advanced low-cost system based on EGNSS, Copernicus SAR and other in-situ sensors, like inertial measurement units, for the purpose of monitoring landslides and infrastructures. GReD has the role of principal investigator in this project, which led to the development of an innovative procedure capable of exploiting together the advantages of the technologies involved.
SaTellite Earth observation for Atmospheric Modelling (STEAM) was an ESA-funded project that aimed at improving the prediction of intense and localized rain events by means of satellite weather observation data.  GReD provided GNSS water vapour estimates by processing large networks of hundreds of GNSS receivers to be assimilated in a numerical weather prediction model. Thanks to the improved characterization of the water vapour field provided by GNSS, forecast performances were significantly improved both in terms of timing and localization.
What has been your experiences in the Asian market so far?
Our experiences in the Asian market are related to the research activity of one of our managers, Dr. Eugenio Realini. He lived and worked in Japan for 5 years before joining GReD after his return to Italy. He held a post-doc position at Osaka City University and at Kyoto University: thanks to this experience, he had the opportunity to collaborate with the Japan Aerospace Exploration Agency (JAXA) about meteorological applications related to the QZSS satellite system. Moreover, he keeps interacting with the Meteorological Research Institute of the Japan Meteorological Agency on GNSS meteorology topics. Although GReD still has limited experience in the Asian markets, we are aware of and ready to tackle the challenges faced when working in cross-cultural scenarios due to our experience in international projects such as TWIGA.
What are your ambitions in Asia for the next five years?
GReD would like to explore the geomatic, geophysical and GNSS-related opportunities and find potential clients in the Asian market for ready-to-use services like GeoGuard®. GNSS.asia plays a key role in this process, acting as a bridge between GReD expertise and potentially interested Asian stakeholders.
Are you interested in learning more about GeoGuard® or connecting with GReD? If so, please register for industry support or contact the GNSS.asia team at hello@gnss.asia.