GNSS.asia launches its brand new start-up support initiative
14 / 01 / 2021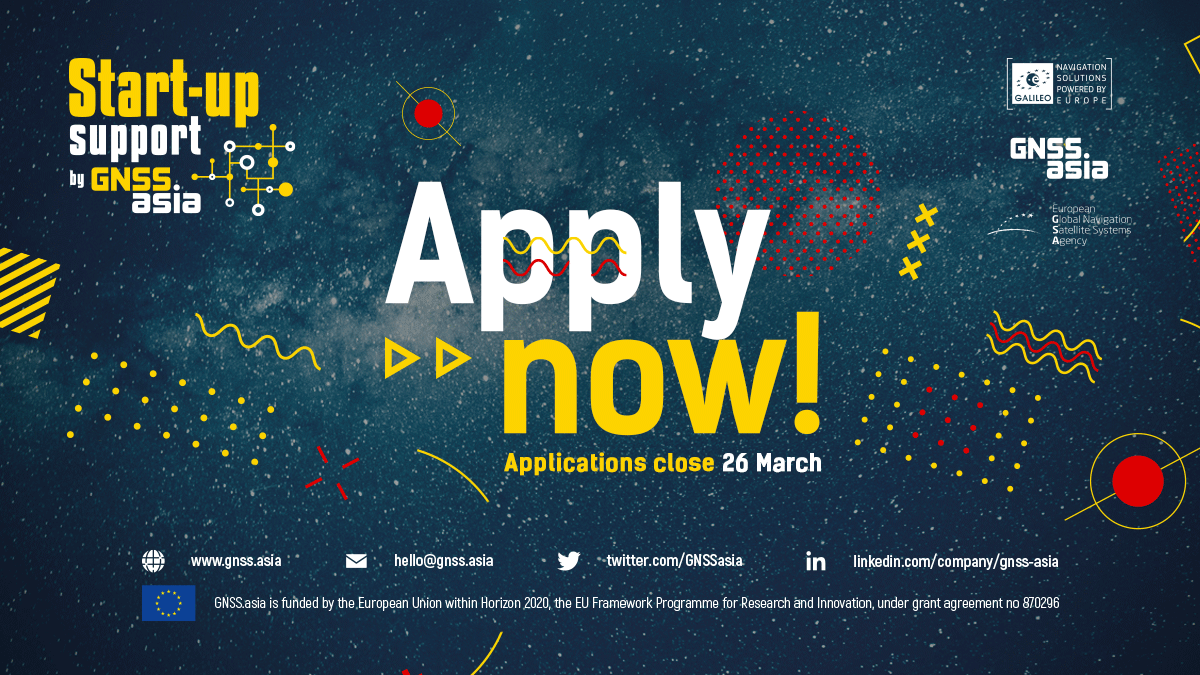 Opportunities
Programme overview
The soft-landing programme by GNSS.asia empowers European start-ups to immediately start their global journey from the comfort of their home. The initiative invites up to 10 of Europe's boldest start-ups with GNSS applications for an ecosystem exploration mission to Asia-Pacific in 2021. The selected enterprises will be supported throughout a 5-step internationalisation sprint with workshops and training sessions to access markets globally and to prepare for expansion.
For more information click here: https://gnss.asia/start-up-support/.
Why should start-ups think about internationalisation?
There are many reasons why start-ups should consider internationalisation very early on, especially in today's globalised world. Advantages of international expansion include long-term risk mitigation, a diversified customer base and supply chain, the possibility to avoid fluctuations and business cycles specific to a single market or region, and the reduction of one's dependency on the strength of a single domestic market.
Most importantly, launching into more than one market means earlier exposure to customers. It also opens a broader pool of resources such as venture capital, advisors, and strategic partners. Above all, international expansion, if approached strategically and rightly balanced, makes European start-ups more adaptable to change.
What does the soft-landing programme have to offer?
Going global can seem like a daunting iceberg in front of every start-up. GNSS.asia has launched the programme to help Europe's innovators in every aspect of their preparation for scaling up to ride the wave in the global GNSS market.

Hybrid 5-step internationalisation sprint
Start-ups will receive one month equivalent of 1×1 coaching tailored to your individual needs. GNSS.asia has experienced business coaches as well as a large network of acclaimed GNSS experts and multipliers in the Asia-Pacific region. They will give you insights into the local GNSS market, acquaint you with the local business etiquette, help you to define the business case and to identify the market with the best fit for your products, and prepare you for your ecosystem exploration mission.
Ecosystem exploration mission
The goal of this physical or digital trip to Asia is to make you familiar with the local ecosystem, to help you build up your own global network in the international GNSS community, to open up global business opportunities for you, and to promote your start-up among local GNSS stakeholders.
Financial Support
You will receive financial support of up to €2,000 to reimburse your travel costs required to effectively participate in the soft-landing programme and to leverage what it has to offer.