GNSS.asia supports six innovators from Europe in going global with their soft-landing programme
02 / 11 / 2021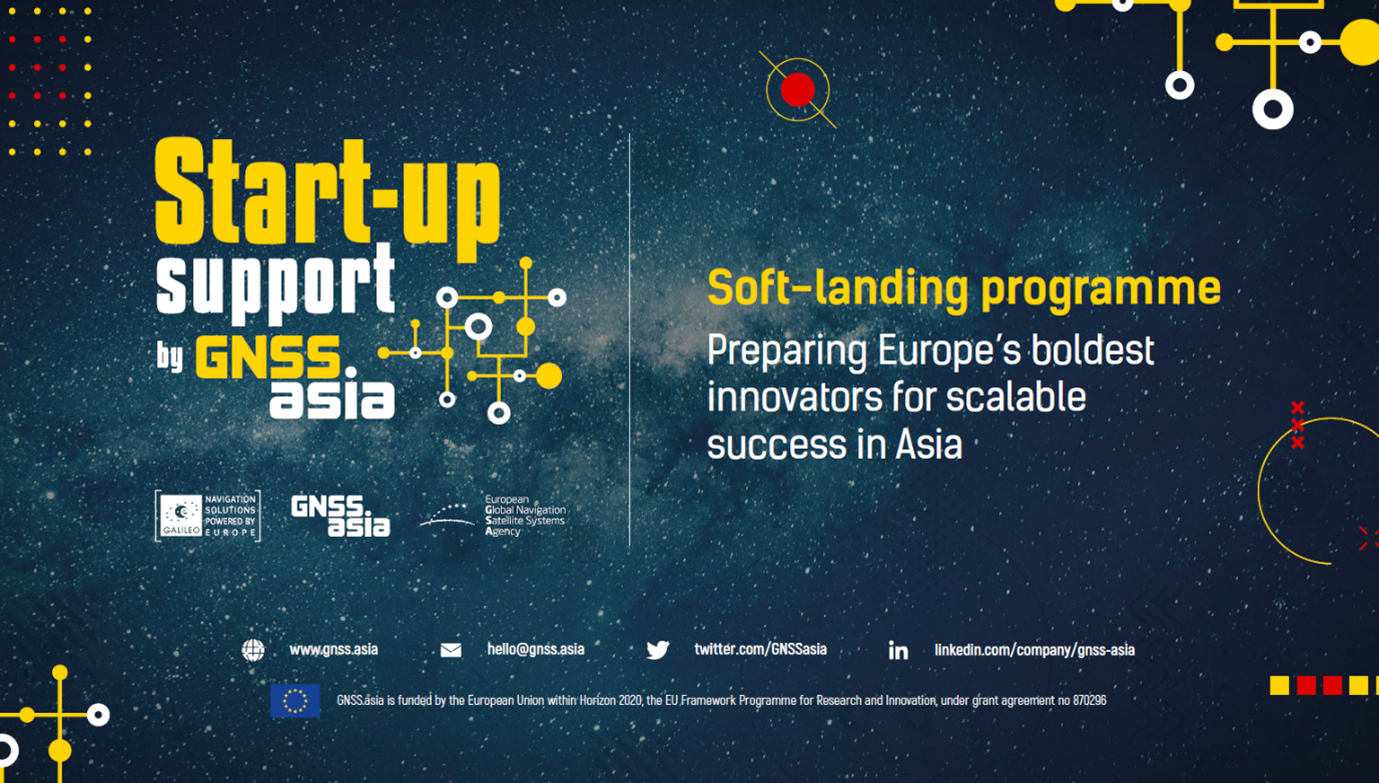 Start Ups
What is the GNSS.asia soft-landing programme?
The GNSS.asia soft-landing programme has taken 6 bold start-ups from Europe on board to support them in their journey to go global. The programme provides a challenging, inspiring, and international setting for the start-ups to take their business to the next level. The focus of the programme lies on Asia-Pacific and it includes three key elements:
5-step internationalisation sprint through mentorship between July and December 2021
Ecosystem exploration mission to Asia in fall 2021
Workshops and training sessions to assist internationalisation efforts

Who are the six start-ups?
During the last couple of months, we have introduced the start-ups to you as part of a series on our Innovation Blog. This series will now come to an end, but the soft-landing programme is still actively supporting the start-ups on their journey.
You can see an overview of all the members here:
 
TRAAK – High-performance wearable tracking

TRAAK offers wearable sensors that can communicate real-time biometric, environmental, or positioning data and with them the perfect tools to analyse, process, and model the generated data. They produce custom made devices for demanding environments 100% in-house, enabling them to offer high flexibility and confidentiality to their clients. GNSS.asia will help this French start-up to explore Australia and New Zealand as a future market.

 
PRNS – GNSS correction services for innovative applications

Stargate RTK, the newest product from PRNS, aggregates all existing GNSS correction services in a single interface. They enable users to get easy and automated access with wide coverage in Europe, Russia, and the US. With the help of GNSS.asia, Stargate RTK wants to expand their coverage area to Asia and increase productivity, scalability, profitability, and functionality for GNSS users worldwide.

 
My Carbon – Become Carbon neutral effortlessly

This young start-up has developed a GNSS-based and AI-enabled App that realises automatically which means of transportation you are using. Through this App, MyCarbon estimates the carbon emissions of users with a very high accuracy and even offers a marketplace to offset those emissions through certified compensation projects. GNSS.asia is supporting the start-up in expanding their business model and refining it for the Asian market.

 
Loctio – Democratizing precise location capabilities for IoT devices

Loctio provides a solution for IoT devices that increases power efficiency, reduces costs, and provides smart location. Their clever solution combines a snapshot GNSS receiver with Cloud/Edge GNSS signal processing and can therefore enable a 98% power reduction. GNSS.asia is aiding Loctio in validating and segmenting highly qualified chipmakers in Asia to bring more efficiency to IoT devices.

 
DDK Positioning Ltd – Resilient and precise GNSS positioning with enhanced GNSS Accuracy

DDK Positioning offers a GNSS augmentation service that enhances the many benefits of using GNSS location data by significantly increasing accuracy, availability, and reliability. The start-up has received a strategic investment from telecommunications giant Iridium Communications Inc. at the beginning of 2021, showing their potential. With the help of GNSS.asia, DDK Positioning is ready to scale-up to Australasia and target their USP for the Asian market.

 
DotHub – drive forward "IoTfication" with clever solutions

A proprietary IoT product that connects your old devices to the cloud. With public API DotHub can be integrated with new products and services. DotHub allows its users to forget about keys and opens doors magically once a virtual keyholder is nearby. This is made possible through super accurate GNSS signals from constellations like Galileo.